Piraeus-Heraklion, one of the most popular routes for travelers in Greece, now acquires the quality signature of FAST FERRIES. From 26/5 you will be able to travel from Piraeus, the first port of the Country, to Heraklion in Crete and your favorite Cycladic islands with the super modern ferry THUNDER. Its routes will start every 2nd day at 09:00 from Piraeus or Heraklion port and include the following accesses:
Piraeus – Heraklion in 9 hours and 20 minutes
Syros – Heraklion in 6 hours and 30 minutes
Mykonos – Heraklion in 5 hours and 35 minutes
Paros – Heraklion in 4 hours and 35 minutes
Ios – Heraklion in 3 hours and 25 minutes
Santorini – Heraklion in 2 hours and 5 minutes
The new THUNDER takes off the experience of your trip!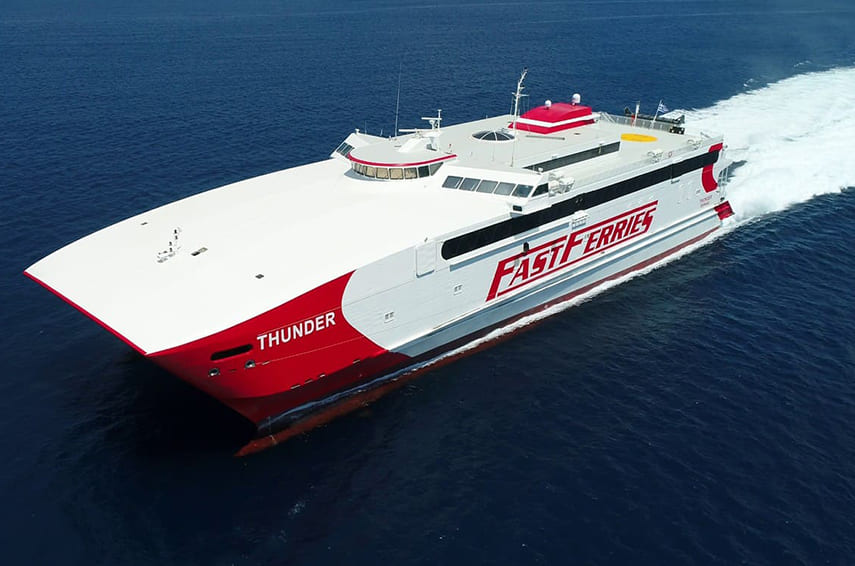 The coverage of Piraeus – Heraklion line from FAST FERRIES will be carried out by the super modern passenger ferry THUNDER. In terms of benefits THUNDER offers:
Comfortable, luxurious interiors
Economy seat with airline seats with or without tables.
Distinguished position with seats at a table
Comfortable stairs and lifts
Three total bars
Store
It is worth noting that the THUNDER ferry is friendly for people with mobility problems.
Travelling with THUNDER is not only fast and comfortable, but also safe. Equipped with the best management systems, as well as the most modern rescue equipment, it guarantees the safety of every traveler. Its faculty, of course, as the faculty of every ship of the company is trained to the highest international standards, so it can respond to every need.
In terms of technical characteristics, THUNDER can comfortably accommodate up to 1068 passengers, as well as 268 vehicles. It has a length of 86.60 meters and develops a maximum speed of 36 knots.
Enjoy the route Piraeus – Heraklion with FAST FERRIES
Are you looking for the best experience for your trip from Piraeus to Syros, Mykonos, Paros, Ios, Santorini and Heraklion of Crete? The THUNDER ferry of FAST FERRIES is now your 1st option. Don't forget that in www.fastferries.com.gr you can book your tickets easily, quickly and without hidden fees. Make your reservation now and…
Enjoy the trip!
CONNECTIONS:
Visit now Heraklion with Fast Ferries:
Santorini-Heraklion, Mykonos- Heraklion, Paros- Heraklion, Ios- Heraklion, Syros- Heraklion, Piraeus-Heraklion
To book your tickets from or to Heraklion please press here: https://booking.fastferries.com.gr/
Did you like our new article "Piraeus – Heraklion: The new route of FASTE FERRIES?
Learn everything about your favorite islands in the Fast Ferries blog.